UVOD / INTRODUCTION
Več o Proezijii lahko preberete v Predgovoru na začetku fotopoezij in slišite v kratkem intervjuju, ki je najavil razstavo na Notranjskem radiu (NTR) in Radiu 94 (novinarka Maruša Mele Pavlin). Za objavo se jim lepo zahvaljujem.
*
The idea for this exhibition came from my intent to say what I have to tell in more than just one way of artistic expression. I have written somewhat between thirty and forty poems and short stories in my life (I explain some of it here) and last year I got a digital camera which showed me the world from a whole new perspective.
Photopoetry was exhibited in Kerubin Gallery in Izola, Slovenia, from 19th May to 10th June 2007.
VABILO / INVITATION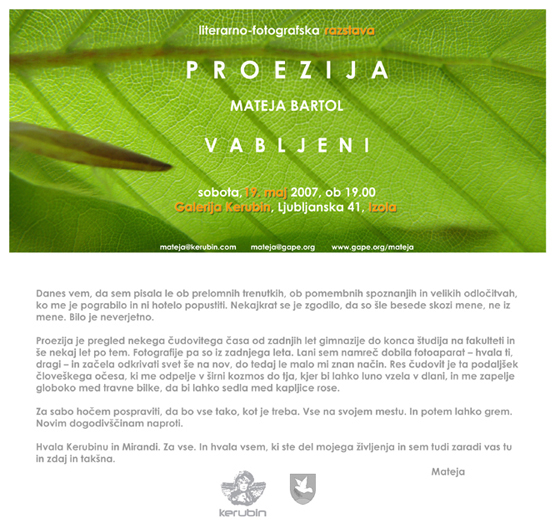 FOTOPOEZIJE / PHOTOPOETRY
Ko miško postavite na fotografijo, se prikaže njen naslov. Če na sliko kliknite, se začne samodejna predstavitev. Večino teh besedil brez slikovne podlage najdete tukaj.
*
Click on the picture to see a slide show. English translations of some of the texts are available here.
IZ GALERIJE KERUBIN / FROM THE KERUBIN GALLERY